Description
Easily send smarter bulk SMS communications with our award-winning features
DigitalTout opens up powerful campaign options for SMEs and marketing users, without requiring any IT help. Whether it is managing contacts, personalizing bulk SMS, sending local language texts, slicing/scheduling campaigns or attaching images and files, it is all incredibly easy! What's more, you can even track real-time delivery status and click metrics for all your SMS campaigns.
Personalize your messages: Use merge fields to add any custom fields of your contacts in the SMS. Zero software installs required!
Schedule sends: Select recipients, compose your SMS and keep your campaign ready to be sent for a specific date and time.
Go local: Send SMS in any Indian regional language by using our incredibly easy transliteration tool.  BUY  IT NOW 
Share files: Add a variety of attachments in your SMS, such as takeaway menus, price lists, brochures, or booking confirmations.
Trackable campaigns: We provide analytics and reports for all your SMS campaigns, including detailed click activity reports for any links in your message.
Best-in-class delivery: Get maximum deliverability and speeds with our robust backend infrastructure BUY  IT NOW 
Multiple ways to send SMS: Send SMS via the web interface, SMS APIs, Microsoft Excel, Email gateway or mobile apps BUY  IT NOW 
And, so much more: You can even insert your own web links or mobile web pages, mobile tickets, vouchers, loyalty cards, surveys and forms created on Textlocal platform.
FREE SOFTWARE
QUICK DELIVERY REPORT
DND Notification
FREE PINCODE DATA(NEW)
FREE DATA DOWNLOAD
** FREE WHATS APP SOFTWARE
UNICODE REGIONAL SMS IS COMPATIBLE WITH THE APPLICATION
தமிழில் குறுஞ்செய்தி அனுப்ப இயலும்
Take the guesswork out of your SMS marketing campaigns by using DIGITALTOUT link tracking system
Whether you are inserting web links, attachments, surveys, tickets or mobile web pages in your SMS messages, link tracking allows you to capture extensive usage metrics while keeping the URL length in check. These short links not only save precious real estate in your message but also allow you to benefit from deep insights into your customer behavior and which campaigns are really paying off. Get detailed reports on the click-through rates of your campaigns, who opened the links at that time, the recipient's location details and device characteristics. With more data to describe your customer, you can now take a more fact-based approach while devising your marketing campaigns.
Setting up a tracker is as simple as entering your web URL into the link tracking service and sending your message. Messenger tracks and reports the metrics and when the links are opened by your customers.
 Gain valuable insights into your customer behavior and campaign effectiveness
Track campaign metrics
Just like email marketing, Textlocal SMS marketing now allows you to track how many people clicked through your web links and attachments. Monitor response rates in real-time to continuously improve your campaigns and follow through.
Gain customer insights
Get granular data about recipients who clicked through the links, including their mobile number, location data, device characteristics and the time they accessed the link. Easily export this data for further analysis and insights into your customer behavior.
Insert short links
Textlocal shortens your webpage URLs to help keep your message length in check while enabling tracking functionality. Mobile tickets, vouchers, loyalty cards, forms and surveys created on DIGITALTOUT are automatically assigned short links.BUY  IT NOW 
Include File Attachments in Your SMS Campaigns
Easily share your menus, brochures, spreadsheets, and PDFs with customers and track clicks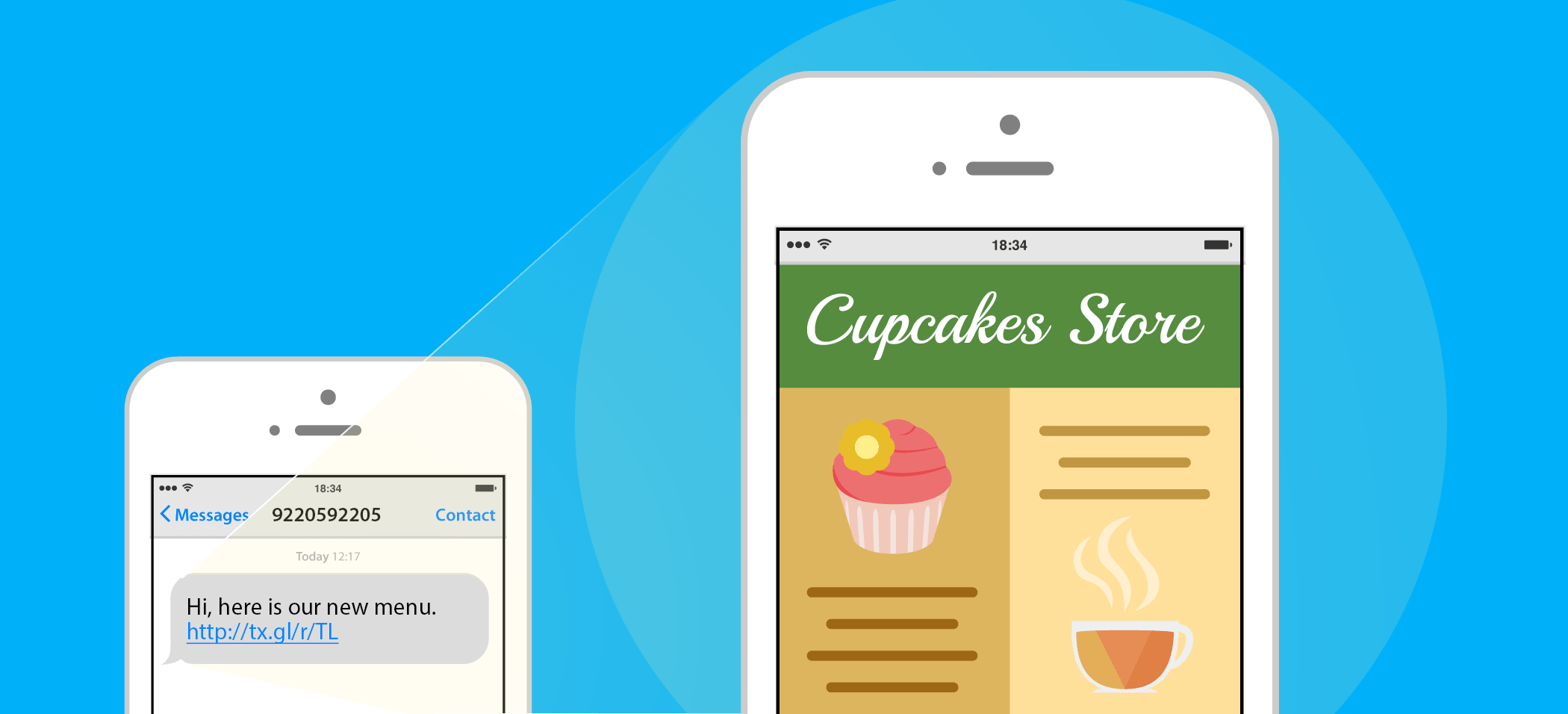 Text messages have outperformed email messages for years, in terms of both open rates and response rates. So, we have brought some of the email functionality to text messaging, allowing businesses to really cash in on the phenomenal open rates of text messaging.
We're the first and only mobile messaging provider to offer the capability to attach files in an SMS message.
How do SMS attachments work?
As you would with an email, locate the file you want to attach from your computer and Messenger will convert this to a clickable link in the body of your text message. Your file will be securely hosted on our server so you don't have to worry about hosting the file online yourself.
How can your business use SMS attachments?
There really are no limits! If you have a file that is less than 10MB, you can attach it. Here are a few examples to get you thinking:
Menus

BUY  IT NOW 


Got a pile of menus stacked on your counter? Don't wait for customers to pick one up; Attach it to an SMS message and send it out to your opt-in database. You can even include attachments in your automated SMS responses to incoming messages!
Newsletters

BUY  IT NOW 


The potential reach here is outstanding. One Textlocal customer generated a 40% click-through rate when sending their monthly newsletter as an SMS message attachment. Email click-through rates tend to peak at 8%. The numbers speak for themselves!
Brochures
Handing out flyers on street corners or directly posting them is typically expensive and produces low response rates. Attaching PDF brochures to an SMS carries no additional costs and dramatically increases the chances of your brochure being read.
Photos
Attach a JPEG to your SMS message to easily transmit pictures in the most cost-effective way.